Y031 YAMAHA FZ1N NA 2006 - 2014 4 DEGREE IGNITION ADVANCER ROTOR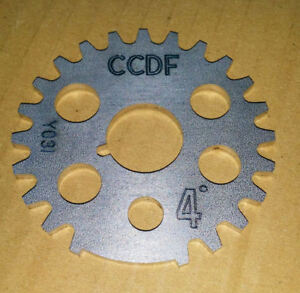 ---
YAMAHA FZ1N NA 2006-2014
4º IGNITION ADVANCER ROTORThese are made from rust-resistant quality magnetic stainless steel.
These advancers are designed to increase performance and improve throttle response particularly in the low to mid range as well as improving the starting of the bike.Bikes are designed to run as well as possible using the worst fuel available in the world and so have slightly retarded ignition to help with this. As we have relatively good fuel we can afford to run the bike with these 4º advancers fitted and have the bike run a whole lot better.These advancers are quality stainless steel to prevent rusting and for more durability.They are also very easy to fit so this is one of the best and simplest mods you can do and with FREE POSTAGE  in the UK it is also an inexpensive way to get more out of the bike.
Please be aware that the back of the advancer may have some sharp edges.
Postage and packing is FREE within the UK and payment can be via PayPal, personal cheque or postal order (please make payable to CCDF Motorcycle Products)Please note that overseas buyers can use only PayPal as payment. Please see our other auctions for more items
Check out my other items!
Thank you for looking
Please feel free to have a look at our  page