LUXURY CANOPY DRAPE - 320 x160cm for BABY Cot/Cot Bed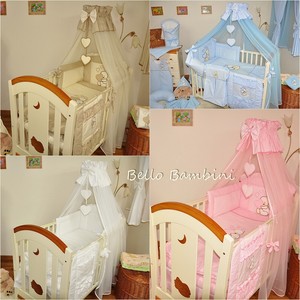 ---
About me Contact Feedbacks Other auctions

Glamorous  Canopy Drape

 

 

 Description

This set comes complete with:

- Canopy made of chiffon with pink checkered top made of cotton and two ribbons to tie sides of canopy to the cot,

-Decorative bow,

-Hanging decorative hearts ,will also attract babies attention

 

This stunning canopy drape, makes

lovely decoration your 'princess's' bedroom,

 

To fit Cot (120 x 60cm) or Cot Bed (140 x 70cm)

HOLDER NOT INCLUDED

Cot/Cot Bed not included

ÖKO-TEX certificate

Linen is made from high quality 100% cotton, soft to the touch, with lovely vivid colours, that do not fade even after many washings.

Linen has a certificate of quality and safety of Oeko-Tex Standard 100 and Safe for children's cloth and linen.

 

 

 

 

 

Thanks for Looking! Come Back Soon!

Payment & Shipping General Returns Contact us

We accept We aim to ship our items in estimated 4-6 working days via courier. However we cannot be held responsible for any postal delays if, however, your order is taking longer than expected 6 working days after your purchase, please contact us we are always happy to help.

From the beginning our goal was and is to deliver products according to the needs of young parents and their children. Each of our products is made with great care and attention to detail. All our products have been designed for safety and comfort of children. It is advisable to double check before purchasing to ensure that the specifications meet your requirements.

In the unlikely event that you are not fully satisfied with your purchase please contact us. The goods must be securely wrapped in their original packaging and returned to us. Replacement goods will only be dispatched once the faulty item has been returned to us, tested at our facility and proven to be faulty.

Click here to contact us None of the above affects your statutory rights.