Goodridge BANJO BOLT BRAKELIGHT SWITCH 7/16x24 Harley Stainless steel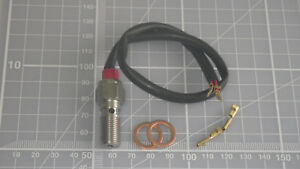 ---
THIS LISTING IS FOR
7/16" x 24 Single Banjo bolt switch
For Harley Davidson (not later metric ones though!)
Please note that this only fits the upper front on some models
the rears and some upper front use the 3/8" unf bolt please check before ordering
These Banjo bolts are in stainless steel and come with new sealing washers
Complete with integral switch they are the ideal solution for any special or modified bike and for motocrossers beeing converted to road use
These can be used in the front or rear line
A great option to replace a faulty OE switch Too!!!
THIS VERSION IS FOR A SINGLE BANJO, PLEASE SEE MY OTHER LISTINGS (or my shop)
FOR DOUBLE BOLT VERSION AND FOR OTHER THREAD SIZES
ALSO AVAILABLE IN m10x1, m10x1.25, 3/8UNF and 7/16x24, Threads
Please ask if you are not sure which thread size you require
Thread Guide
Please note this guide is to help you choose the correct thread but you must check the bolt against the one you are taking out to ensure you have the correct fit
and to avoid damaging your parts, it is given in good faith but there are exceptions
Aprilia, Bimota, BMW, Cagiva, Ducati, Moto Guzzi, Brembo* ATE use M10x1
Harley Davidson
Up to 2004 Single disc models use 3/8x24 on the Caliper and 7/16x24 at the master cylinder,
Twin disc models use 3/8x24 throughout, Post 2004 they use a combination of M10x1 & M12x1.5
Honda
All use M10x1.25 with the exception of the CB500 and some parts of the early linked braking systems found on Goldwings
Kawasaki
Post 1978 All use M10x1.25 but earlier models can have M10x1
Suzuki
Pre 1994 use m10x1 through out,  between 1994-2004 they use a combination of both M10x1 & M10x1.25, post 2004 they are supposed to be all M10x1.25
BUT BEWARE WE HAVE FOUND EXCEPTIONS MAKE SURE YOU CHECK
Triumph
Pre 1980 use 3/8x24 but the new era use M10x1.25
Yamaha
 All use M10x1.25
* Brembo fitted as original equipment on Yamaha's are M10x1.25
I can Take Paypal
 or  PAY BY CREDIT OR DEBIT CARDS (you will be given details on invoice)
I am also able to offer GOODRIDGE BRAKE LINE KITS (all materials)
Remember if you have any questions please contact me
Please see my shop or if you need something specific I can list it for you
-----------
has now changed the rules so the only option allowed to contact us is to use the "ask the seller a question" button
BGC Motorsport Components
---------------
Please Note: Any tax or duty is the sole responsibility of the buyer on goods sent out of the UK
and the "expected delivery" dates are set by and are best case, please do not rely on these dates for urgent parts as delays can happen through transport and customs as well as by your local postal services. Standard air mail is not tracked please select the correct carriage option if you require your item to be tracked.