EPDM Smooth Rubber Tubing Coolant Radiator Hose Brake Fluid Safe Tube Air Water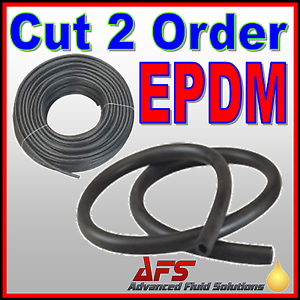 ---
Welcome To
Advanced Fluid Solutions Ltd
We supply various types of Hydraulic & Industrial hoses & fittings for the following:
Automotive, Agriculture, Aviation, Material Handling, Marine, Mining & Quarrying, Plant & Construction, Rail & Utilities ++
We Only supply Top Quality Products @ Competitive Prices
Every Product is subject to strict quality controls from Approved ISO 9001: 2000 Manufacturer's
TOP QUALITY BRANDS USED IN MANY INDUSTRIES
WHY COMPROMISE FIT THE BEST!!!
PLEASE CONTACT OUR CUSTOMER SERVICES
IF YOU NEED ADVICE ON THIS PRODUCT or ANY OTHER PRODUCT
  OR EMAIL US
Every product you see listed in our store is IN STOCK & available for immediate dispatch.
PICTURE IS FOR ILLUSTRATION ONLY
LISTING IS SOLD PER
100mm or 1 METRE
***CHOICE I.D x O.D***
PART NUMBER: EPDM-0**
SMOOTH EPDM RUBBER TUBING HOSE 
This item is cut to the Qty you order
*** PLEASE ORDER 1 ITEM @ 100mm IF YOU REQUIRE 100mm LONG HOSE ***
*** PLEASE ORDER 2 ITEM @ 1000mm  IF YOU REQUIRE 2000mm LONG HOSE ***
*** PLEASE ORDER 6 ITEM @ 1000mm IF YOU REQUIRE 6000mm LONG HOSE ***
We Will Cut @ 100mm, 1000mm, 2000mm 3000mm 20000mm upto 20mtr coils +/- 10mm
as per your ITEMS ORDERED
LONG HOSE ***
***+/-10mm***
Specification:
UNREINFORCED EPDM HOSE WITHOUT BRAIDING,
Application: Tube: COOLANT / BRAKEFLUID REFILL HOSE
Temp Range: -40°C to +130°C
ALL MEASURMENTS ARE +/- 0.4mm
*************************************************************
Other words (air compressor hose coupler polyurethane reel tool like The Samco Sport hose kits COOLANT engine diesel petrol oil performance exhaust rs cd player multi changer mp3 dvd flexible radiator rubber water fuel tank Goodyear heated heater clamp clamps couplings cover covers protector protectors intake  parker  ptfe  stainless steel racing COOLANT Gps alloy stainless steel sports body kits garden rubber jubilee hoselok gas caravan sealine sunseeker fairline bayliner craunchi fishing boats fenders filters antifoul silicone silicon no reserve clips clamps swage joiners teak)
We Also stock a variety of silicone products which will enable you to fit and make up Hose Kits for a wide range of leading performance car manufactures including:
Audi - BMW Mini - Citroen - Fiat - Ford - Honda - Hyundai - Jeep - Lancia - Mitsubishi - Nissan - Peugeot - Renault - Seat - Subaru - Vauxhall -  VW Volkswagen
Venair manufactures silicone hoses for the following: Automotive, Motor Sport Tuning Kits, Marine, Ventilation, Food, Pharmaceutical and Cosmetics Industries.
Performance Silicone Hoses are hand crafted using the highest quality VMQ silicone. Every hose is subject to strict quality controls
Approved ISO 9001: 2000 Manufacturer
A TOP QUALITY BRAND USED IN MANY INDUSTRIES
Please take a look at our  Shop
THANKS
FOR
LOOKING