BMW S1000R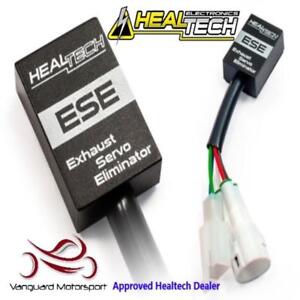 ---
Powered by Frooition About us Payment Shipping Returns FAQ Contact us APRILIABENELLIBMWDUCATIHARLEY DAVIDSONHONDAHUSQVARNAKAWASAKIKTMMV AGUSTAPOLARISSUZUKITRIUMPHYAMAHACLUTCH & BRAKEFUELLING & AIR SYSTEMSROAD/RACE ACESSORIESIGNITION & QUICKSHIFTERSMAINTENANCEUNIVERSAL PARTSEXHAUST SYSTEMS & ELIMINATORSCHASSIS, WHEELS & SUSPENSIONOFF ROAD ACCESSORIES All Items See our store for more great items >> Shop CategoriesAPRILIABENELLIBMWDUCATIHARLEY DAVIDSONHONDAHUSQVARNAKAWASAKIKTMMV AGUSTAPOLARISSUZUKITRIUMPHYAMAHACLUTCH & BRAKEFUELLING & AIR SYSTEMSROAD/RACE ACESSORIESIGNITION & QUICKSHIFTERSMAINTENANCEUNIVERSAL PARTSEXHAUST SYSTEMS & ELIMINATORSCHASSIS, WHEELS & SUSPENSIONOFF ROAD ACCESSORIES BMW S1000R | S1000XR  All Years  Healtech ES Eliminator | Exhaust Servo Emiminator Item Description

ES Eliminator

Exhaust servo eliminator module

Remove the bulky and heavy exhaust servo motor when replacing the end-can or the full exhaust system. Plus, it will get rid of the FI light coming up when disconnecting the servo motor. Get the job done right with the help of the tiny, but mighty ESE!

 OEM exhaust cans and systems won't win a beauty contest these days (and rarely did they in the past), they weigh a lot more than the aftermarket counterparts, sound crap and you never reach the bike's full potential with them. Whatever is the reason to change your end-can or entire system, removing the exhaust valve will leave you with the dreaded FI light. Install the ESE to take care of that so that the FI light will come on only when it must – when there's a trouble with the engine.

Features

 Regain useful space while shedding weight This tiny little fella will eliminate the bulky, heavy and space wasting OEM servo motor with the operating cables and wiring, which can save up to 1 kg and frees up a lot of under seat storage. Also, you may now get rid of the exhaust valve too by replacing the exhaust system.

 Awesome Tech Built-in microprocessor ensures optimal function and offers great compatibility. If your bike is equipped with an exhaust servo, you'll need an ESE module – either if you replace the exhaust system or add a fuel controller module (or both).

 Plug 'n Go install All ESE models are Plug 'n Go, installation is a breeze. Just locate the exhaust servo motor under the rider/passenger seat, disconnect the plugs, plug in the ESE to the OEM connector and that's it, you're ready for the ride!

Whats an EXUP Valve? 

For the last two decades bikes have been equipped with an exhaust flap valve (also called as EXUP valve) to improve low down torque with the hindering of the flow of escaping gasses creating back pressure in the exhaust system. As the revs rise and the more you open the throttle, this valve opens more and more so the gasses can leave unblocked. This valve and its housing is welded after the header's downpipes right before the collector pipe and/or the collector chamber/catalytic converter so removing this alone from the factory system is not worth the time, the money and the effort itself since the OEM system in the most cases is still low quality and heavy as hell. Of course, titanium OEM systems exist but finding an exhaust shop with titanium welding capabilities isn't easy and will cost you an arm and a leg in labour to remove the exhaust valve from the system. So, it's easier and gives much better result to opt for an aftermarket end-can or entire system. Either way you take, you will need an Exhaust Servo Eliminator to complete the job properly!

About Us About Us Payment Shipping Terms Returns About Us

Vanguard Motorsport Ltd are dedicated to customer service and satisfaction. With over 30 years of industry experience, we live and breathe motor sport, especially the two wheeled variety. The company was built many years ago and has grown from strength to strength over the years where we have built a vast knowledge and passion for all things motorcycle. We started back in the day, competing in road racing at the grass roots and quickly progressed into British Super Bike and European level racing. Here we started building bikes and running our own race team from which the companies foundations were built. We soon became recognised for our level of customer care, bike build quality, tuning and dedication to our sport. We only offer the very best equipment, guidance and advice that we have learnt over 30 years to better our customers riding experience and enjoyment. So if you need the latest and greatest upgrade, help with upgrading and tuning, comfort or aesthetic upgrades, advice or just want to chat about the best options for you and you bike, give us a call. We have our own work shop and Dyno facilities and have a wealth of knowledge and experienced staff to work on any type of bike whether it be road, road race or moto x. We are here to help and look forward to hearing from you.

Payment Payment

We accept payment by the following methods: PayPal Postal Orders Credit/Debit Cards Bank Transfer

Shipping Shipping

We offer FREE shipping to Mainland UK on selected orders! Worldwide Shipping also available at cost. Your order will normally be dispatched within 1-2 working day of receiving payment (Monday-Friday, excluding Bank Holidays) and you should expect to receive it 3-5 days after dispatch. In the unlikely event that your item is lost or damaged during post, please contact us immediately via Messenger

Terms Terms Returns Returns

The unit must be as new, unused, undamaged and where applicable not have been installed. It must be in the manufacturer's original packaging which must also be undamaged. Returns missing original components cannot be refunded/exchanged. If the item you receive is incorrect, please notify us at the first instance and we will be happy to issue an exchange. If you change your mind or order the incorrect item, we are happy to offer an exchange or a refund, less postage charges and subject to a 20% restocking fee. If your item has arrived damaged or defective, please contact us as soon as you can and we will arrange either an exchange or refund. If you have any questions, please contact us via Messenger

Helpful Links Add to Favourite Sellers Sign up to Newsletter View Feedback Contact Seller Visit seller's Shop About Seller Page More Items!View more great items Powered by Frooition Frooition | No-js Template | design, store design, shop design, template design, listing design (ver:froo_no_js) This listing is currently undergoing maintenance, we apologise for any inconvenience caused.